"Be Not Afraid" Mosaic
Artist: Kevin Pawlowski (Texas US, 1968- )
Title: Be Not Afraid
Medium: Glass mosaic on board
Date: 2017
"Be Not Afraid", by Kevin Pawlowski, is a glass tile mosaic that shows a majestic scene of Jesus walking on water toward his apostles. Each tile was hand-glued over the course of 2-months, for a total of at least 6,000 pieces of glass.
The composition is based on a bible engraving by Gustave Doré from the 19th century. Scroll down to see a video of Kevin's mosaic assembly process.
The original is hanging in the entryway of St. Michael the Archangel Church in Woodstock, GA, but you can have a high quality reproduction for your own home! Purchase a canvas art print, poster, and even printed merchandise like a t-shirt or coffee mug.
FREE SHIPPING ON ORDERS OVER $50!
(Promo code: FREE)
POSTERS
Posters are printed in high fidelity color and glare-free matte paper stock. Framing is not available for posters.
Coffee Mug
The 11 ounce white ceramic mug is printed with a high fidelity dye sublimation process.
T-Shirt
Seamless collar, taped neck and shoulders. Double needle stitching. Made of 50% preshrunk cotton, 50% polyester. This is a great loose fitting athletic shirt that will help keep you cool and dry in hot weather or during physical activity. Direct to garment (or DTG) printing involves an advanced inkjet printer laying ink directly onto a garment. These prints are generally thinner than screenprints, allowing for more intricate designs and a softer print texture.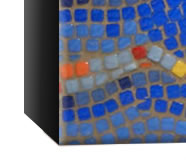 Canvas Prints
Canvas reproductions are stretched over a 3/4" frame and have a black edge, which looks great hung with or without a frame.
SHIPPING LEAD TIMES
These products are produced make-for-order, so posters should arrive within 2-weeks of ordering, and canvas prints within 1-week. Unanticipated factors can cause delays, so please specify if you need to hit a specific date (i.e. a birthday).
Also available: Jesus Mosaic 2-Sided Puzzle
Gorgeous 12" x 16.5" 2-sided puzzle, with a glass mosaic image of Jesus walking on water toward His Apostles on the front, a stone and glass mosaic portrait of Jesus on the back.